CEOs and senior executives from leading construction firms in the Gulf debated key employment challenges facing the industry in an event hosted by GulfTalent
Recruitment is less intense, but remains robust. Finding the right talent continues to be a challenge in some Gulf countries
Construction companies across the Gulf region continue to seek talent for their projects, according to a panel of company directors from the construction sector who spoke at a leading industry event held in Dubai yesterday.
The event was organised by GulfTalent in Dubai. It was attended by over 50 delegates, including CEOs, Human Resource Directors and other senior executives from the region's largest construction companies and related advisory firms. The discussion panel consisted of senior executives from Amana Contracting, ARCADIS EC Harris, Laing O'Rourke, Al Tamimi & Company, as well as GulfTalent.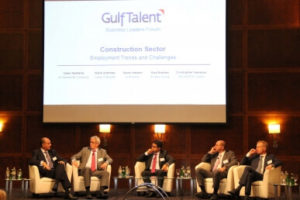 The panel found that, with public sector spending under pressure from lower oil prices, award of new construction projects had slowed down. However, previously awarded projects were continuing without impact. As a result, the sector is facing a continued need for skilled staff across most roles and specialisations, albeit at a more moderate pace than a year ago.
UAE most attractive market for talent
According to the panel, the UAE remains the easiest market for hiring expatriate talent, while Saudi Arabia is the most challenging. One panel member reported having to decline lucrative projects in Saudi Arabia, due to not having sufficient staff. As a result, construction professionals are offered the region's highest salaries in Saudi Arabia.
The Middle East region, as a whole, remains an attractive destination for construction professionals globally, according to the panel, especially in the context of a slowdown in Asia and other emerging markets. For employers targeting this pool, the rising cost of living in the region, especially housing and school fees, is a concern, exacerbated by recent cuts in subsidies. Media coverage of armed conflict in parts of the region had heightened perceptions of regional risk among some potential candidates, some employers reported, although overall interest in the region remained strong.
Visa restrictions
Several employers present reported facing challenges in filling their vacancies due to restrictions on employment of certain nationalities in parts of the Gulf region. While over the long run, they could switch to alternative sources of talent, they found it particularly challenging when such policy changes were introduced at short notice. One speaker described the challenge of adapting to changing visa legislation as 'following a moving target'.
Attracting Gulf nationals
On the subject of attracting local talent, firms faced the biggest challenge in Saudi Arabia and Oman, where nationalisation targets are higher and are most rigorously enforced. Panelists cited an 'inaccurate' image of the construction sector among nationals as a key obstacle to attracting them, on top of the general shortage of skilled nationals in the engineering domain. One speaker mentioned that "For many young people, their image of a career in construction is someone pouring concrete on a hot day, whereas in reality our roles are much more diverse. The private sector, the industry associations and the governments all need to work together to change such perceptions".
The panel also complained that the region's construction sector was not investing sufficiently in the development of young talent. This was driven in part by the extreme competitiveness of the market and high price-sensitivity of clients. The 'project-based' nature of the construction business in the region made it even harder to plan for the long term and invest in developing talent over many years. As a result, graduate programmes were far less prevalent in the Gulf than in other parts of the world. Instead, many construction firms rely heavily on rapid hiring of experienced staff on a 'just-in-time' basis when they win projects, and trimming down staff numbers quickly when projects come to an end.
The event was part of GulfTalent's Business Leaders Forum series, where the region's senior business leaders gather to discuss employment issues affecting their industry.
4 Employment Trends in the Gulf That YOU NEED to Know
The Gulf region economy has attracted a huge amount of attention over recent years. From a decade of record high oil prices to the dramatic collapse of $100 to $30 per barrel, disruption looks set to take hold of the oil-dependent Gulf economy for the near future. Government response has taken the form of cutting state subsidies as well as non-essential projects, affecting both private and public sectors.
The implications of this mean employers are now having to face new market realities. Recruitment has been slower, redundancies are on the rise and pay increases are minimal. Not only this but recruiters also need to deal with the increasing government focus on nationalism, geopolitical tensions and the rising cost-of-living which will affect their day-to-day jobs. Primarily based on the 'Employment and Salary Trends in the Gulf 2016' survey by GulfTalent, we're going to break down the top 4 employment and recruitment trends in the Gulf region that you need to know NOW!
Trend #1: Nationalisation Pressure
One of the top priorities for Gulf region governments in recent times has been to increase the share of private sector jobs held by nationals. The roots of the skewed employment patterns lie in the small national population and also their lacks of skills to serve the rapidly growing demand to expand the economy, especially during the oil boom. Employer-driven open migration regimes, gaps in labour rights between nationals and foreigners and very generous public employment policies have all contributed to this labour segmentation.
According to GulfTalent's survey, various countries are taking measures to increase nationalisation. Saudi Arabia has embarked on Saudisation with additional job titles reserved exclusively for Saudi nationals, while Kuwait has also taken measures to make expatriates less employable, by limiting professions in which expatriates can be issued with a driving license.
Trend #2: Worker Protection
Governments in the Gulf are gradually working to improve worker conditions mainly due to the heavy criticism from international media. This issue came to bear recently in Qatar when a report from the Guardian found that dozens of Nepalese migrant labourers died due to appalling labour abuses in the construction of stadia for the FIFA World Cup scheduled to take place in 2022. Not only that but some labourers had not been paid and passports had been confiscated.
In response, Qatar, Saudi Arabia and UAE have launched a wage protection system to ensure payment of salaries on time. UAE has removed a 6 month visa ban on employees who leave their jobs while Qatar are working on revamping their Kafala (worker sponsorship) system to ensure more protection.
Trend #3: Conservative Hiring
Cautious hiring is set to define the recruitment industry in the Gulf region for the rest of the year with many companies waiting to react to how the market evolves. This is mainly due to the reduced oil prices and government spending. Companies are looking to reduce costs and improve efficiency by undertaking restructuring, merging job roles and outsourcing entire departments.
With hiring under more scrutiny, companies are looking to merge job roles and focus on candidates who can perform a wide range of duties. The reorganisation and redundancies by companies may contribute to a favourable candidate market with more top talent becoming available.
Trend #4: Tensions Building Between Countries
Geopolitical tensions and military conflicts have been rising steadily in the Gulf, putting further demands on government finances. Qatar's support for Muslin Brotherhood and the presence of Hamas and radical Islamists in Libya have contributed to the conflicts. This came to a head in 2014 when Gulf Corporation Council (GCC) members UAE, Saudi Arabia and Bahrain withdrew their ambassadors from Qatar.
These tensions have translated to restrictions on hiring some expatriates, particularly professionals from Egypt, Syria and Lebanon. The attention from international media makes it more difficult for companies to attract expatriate talent and securing employment visas for candidates from unstable continues to be a challenge. With political tensions on the rise, employers may need to look elsewhere for Arabic-speaking talent. A possible opportunity would be to source talent from oil-dependent Commonwealth of Independent (CIS) states who are facing a crisis and have recently devalued their currencies.
Overall, the outlook for the Gulf region for the rest of 2016 remains highly uncertain due to the oil price. More pain is likely to follow if the current low prices remain the same which will have a big affect on the recruitment industry. That being said, the Gulf states remain in a better position than other oil-dependent economies due to stable currencies and substantial government reserves