Employee Screening Services-
             Future of Resourcing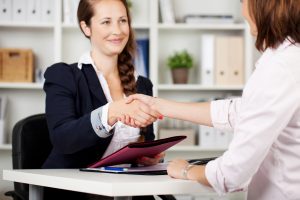 "The resourcing landscape has always been complicated, with even the most experienced HR departments still struggling to pinpoint the perfect hiring process. 2018 is showing no signs of simplifying.
"The constantly growing set of hiring tools, technologies and techniques available can both help and hinder recruitment efforts. Fierce competition for global talent is putting more pressure on companies to be seen in all of the right places, in order to compete in the market." 
The world of resourcing is rapidly evolving, with technology innovation, social media and shifting candidate expectations leading to new methods for attracting and assessing candidates. Despite rapid change in this field, the factors that underpin effective recruitment – having a strategy and well defined recruitment process, being clear about individual performance metrics,  having robust evidence-driven selection processes, and a strong employer brand remain constant.
Why Do EMEA Businesses Screen?

The  2018 EMEA Benchmark showed that 89% of HR and risk experts have seen candidates misrepresent information on applications. In addition to this, 75% of organisations said that background screening has uncovered issues which would have otherwise gone undetected.
There are many reasons that businesses use background screening, including improved security, increased regulatory compliance, to prevent reputation damage, to demonstrate equality when hiring staff and due to negative experiences from employees not being screened.
A recent article in Recruitment Grapevine revealed that a man with a long history of defrauding companies who was not screened before hire stole nearly £100k from a high-end construction company in London in 2015. The company subsequently went into liquidation in January 2016.
Screening Senior Management

Our research suggests that discrepancies on candidates' CVs and applications is not limited to just junior and entry level roles. Of those who screen, 28% of EMEA HR teams have uncovered issues in senior applications. Additionally, 26% of EMEA businesses said that it is possible that people on their board have never been screened. This indicates a worrying gap in the screening processes for many businesses.
What is being screened in EMEA?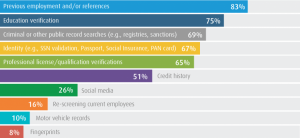 The top screenings performed pre-hire in EMEA organisations were employment (83%), education (75%), criminal or other public records (69%), identity (67%) and professional qualifications (65%).
Unsurprisingly, the screening standards in Financial Services are generally higher than in other sectors. More than three quarters of all candidates are screened for employment history, criminal background, education verification, credit history, identity, and professional qualifications.
There are many ways to improve your candidate experience, including refined and accurate job descriptions, dedicated social media channels to show what it is like working for your company, and using staff testimonials to talk about why they chose to work for your business. Keeping your candidates informed and being transparent about your business can help to ensure that your applicants have a positive candidate experience.
We work as a single united team with market leading firms around the world and give our clients the highest quality advice possible.