Businesses today need to validate the proof of identity of all their employees, prospects and clients. This is to make sure that they safeguard their interests against imposters, identity thieves and data breaches. Not only does an identity verification reduce business risks, it also builds confidence in your brand. The government too has taken steps there are several industry regulations as well, such as AML, KYC and SOX, which place the responsibility of carrying out identity authentication on businesses.
One of the best ways to check the credibility of the identity of your clients, employees and prospects is voter ID card verification. This simply verification ensures that your business is protected against identity thefts and frauds.
Keys Validations:
State of Issuance

Alternatively, our clients can also send the image of the Voter ID card to us, which we can directly feed into our system to extract information using OCR Technology. Our voter ID verification service is quick and helps reveal identity frauds to reduce business risks.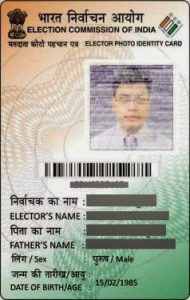 57% of employers say the leading benefit of background checks is better quality of hire.
85% of employers report finding misrepresentations on a resume or job application.
77% of employers say background screening uncovered issues that wouldn't have been caught otherwise.
We work as a single united team with market leading firms around the world and give our clients the highest quality advice possible.